ФФУ переврала слова Чеферина о роли Павелко в финале ЛЧ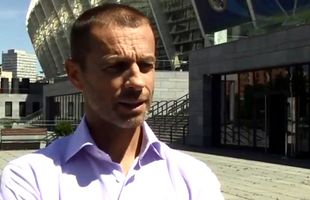 Пытаясь спасти свою подмоченную репутацию, глава ФФУ не останавливается ни перед чем и даже высказывания президента УЕФА ведомство Павелко трактует по-своему.
На следующий день после финала Лиги чемпионов официальный сайт ФФУ опубликовал комментарий президента УЕФА Александра Чеферина касательно того, насколько успешно Киев провел финальный поединок.

Комментарий функционера сопровождался украинским переводом. Однако заключительная фраза Чеферина касательно роли президента ФФУ Андрея Павелко в проведении турнира была полностью неправильно переведена – как на сайте ФФУ,так и в субтитрах на видео с официального Youtube-канала федерации.

«I don't know if I can be very objective, because we are friends. But I try to be objective and say that they are going to do a very good job. They're developing football in Ukraine and you can expect some perfect results in future», — слова президента УЕФА в оригинале.

(«Я не знаю, могу ли быть объективным, поскольку мы с ним друзья. Но попытаюсь быть объективным и скажу, что они проделывают очень хорошую работу. Они развивают футбол в Украине, и вы можете ожидать потрясающие результаты в будущем»), – перевод слов президента УЕФА.

А вот так интерпретировали слова Чеферина в пресс-службе ФФУ.

«Я дякую моєму другові Андрію Павелку за відмінно проведену роботу та неймовірний фінал Ліги чемпіонів! Його команда проводить велику роботу з розвитку футболу, і тому ви можете очікувати на чудові результати в майбутньому».

Некорректный перевод или...?
30 мая 2018 16:55